How AdRoll Creates Better Performing Retargeting Ads?
Interesting Fact: "Approximately 96% of your website visitors leave without a single purchase."
There is no other appalling and depressing statistics for a marketer than this because you are losing out on a huge chunk of visitors.
Whether you are running a small or large business, advertising plays a vital role in driving online traffic to your website. But what if they aren't ready to buy when they first find your website? Or gets distracted while in process of making the purchase?
Well, there is a solution to every problem. And this problem's solution name is Retargeting!
WHAT IS RETARGETING?
Source: Performance Driven Marketing
Imagine you're scrolling through the internet and came across plenty of websites. You liked some products but moved on anyway because you were not willing to purchase them yet.
A few days later, you are using your mobile and see an ad for a product you viewed way before. Suddenly, you are reminded of a particular brand, intrigued by the ad, and returns to make a purchase. This, my friend, is retargeting in action.
In simple words, Retargeting is a form of online advertising that helps you to remind your visitors about your brand, products and services you offer after they leave your website without a purchase – persuading them to close sales that didn't happen.
HOW DOES RETARGETING WORKS?
Source: AdRoll
A good rule of thumb for marketing to ensure that the customer is communicated with your brand message at least 8 times. Retargeting allows you to accomplish that and helps you convert a forever lost prospect into a repeat customer.
Here's how it works: It works by utilizing cookie-based technology that uses Java script codes to store a small piece of data by the Web Browser to track who visited your webpage or ads. Then, the cookie data is analyzed and a relevant yet personalized message is designed which pops up to the users who have already familiar with your brand and have recently shown interest. That's the reason it is a powerful branding and conversion optimization tool for most of the marketers as it helps you achieve a higher ROI than any other marketing tactics.
Everything about retargeting ads should be personalized in order to be effective. From designs and the right message funneled down to Call-to-Action, everything should be strategized to keep your brand in front of bounced traffic and greatly increase conversion rates. But it cannot drive people to your site.
Your best chance of success is to use a tool available that are designed specifically to help campaign managers and business owners get the most conversions out of their retargeted ads.
ADROLL – THE BEST RETARGETING TOOL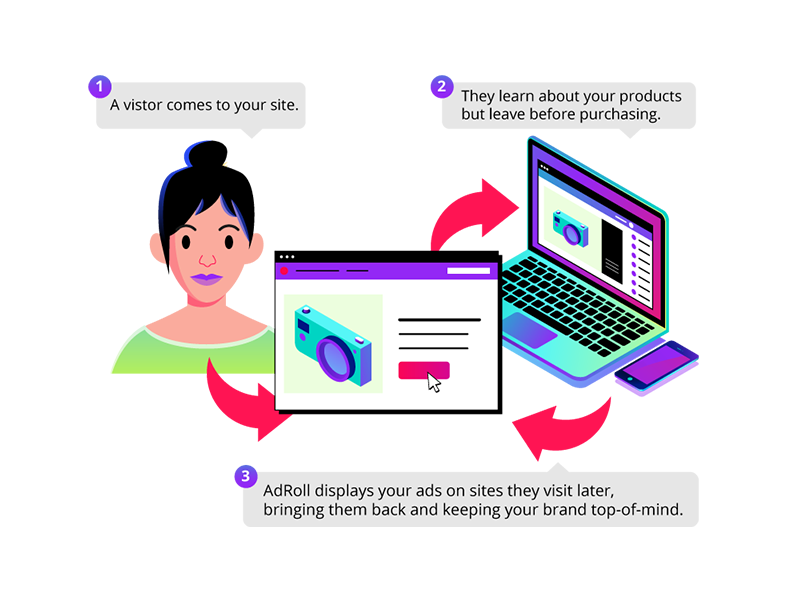 Source: AdRoll
Ever since the launch in 2007, AdRoll has been levelling the playing field for many brands like WordStream, Spotify, Slack, Accenture, Dr. Martens, and Air New Zealand helping them to capture more customers, compete online and grow revenue.
Question Arises? What is Adroll?
Adroll is an AI-driven performance marketing platform that connects and manages marketing efforts across ads, e-mails, and online stores in order to support the entire customer journey using the IntentMap™, the largest opt-in advertiser data co-op in the world, which has over 1.2 billion digital profiles. This allows marketers to reach their audience anywhere on the web and create ads to help customers to close the purchase.
This platform has helped 37,000 customers globally generate more than $246 billion in sales annually.
CURRENT PRODUCTS OF ADROLL
1. AdRoll Prospecting
Just as the name suggests, AdRoll's Prospecting allows to analyze your site's existing customer data for intent signals using AI. Based on the comprehensive information, AdRoll helps you in identifying potential customers, aka prospects.
AdRoll Prospecting helps to find and target the most active and best qualified new audiences that are more engaged and are likely you convert than organic traffic. Using BidIQ, AdRoll can connect companies with over 1.2 billion digital profiles across web, social, and mobile channels.
2. AdRoll Retargeting
Known as the Leader of Retargeting, Adroll helps you to place a cookie in the prospect's browser using Javascript code that allows you to show the prospect relevant targeted ads after they leave your site. The ads can come across social media, web, mobile, and other multiple devices.
Everything about retargeting ads should be personalized in order to be effective. From designs and the right message funneled down to Call-to-Action, everything should be strategized to keep your brand in front of bounced traffic and greatly increase conversion rates.
3. AdRoll E-Mail
AdRoll has made E-mail campaigns super easy. Create beautifully customized designed e-mail templates, track the success of your emails with real-time data and develop sign-up forms to add them onto your website to capture visitor emails, and reach an audience that wants to hear from your brand.
A hobby site called AMain Hobbies, one of AdRoll's clients, saw over 1,900 conversions, a 775% increase, when adding AdRoll Email to their marketing strategy. Using a retargeting email like the one above to target visitors who didn't checkout and bring them back to your website is one of the easiest ways to raise your email performance metrics.
4. Custom Design
A complete package for medium-size to enterprise-level businesses who run multiple campaigns per year. AdRoll provides their customers access to their in-house dynamic ad team that ensures you to get the most impactful, high-performing ad designs that are on brand and on-time.
A better designed ad campaigns will improve the amount of times the ad is clicked on and this generates more leads, orders and increase your sales. Having that extra design muscle definitely don't hurt anyone and allows advertisers to stay fresh and relevant in deadline-based scenarios.
5. AdRoll Dynamic Ads
Imagine if someone views a dress on your website. And, when they leave the website, you can show them the exact dress they viewed in order to remind them.  Some may call it creepy but the numbers don't lie.
Similarly, dynamic ads allow the marketers to show customized ads based on what your customer has already viewed. Interestingly, the bidding AI can make 2.5 million predictions per second to help AdRoll's customers place the best ad at the best value.
Based on AdRoll's extensive data, dynamic ads have a 2x higher click-through rate and a 50% lower cost per acquisition than static ads. So, opt for best practices to maximize results from your campaigns.
Wait! If you're still struggling to come up with retargeting ideas, Afterr Media can help you hit the accurate strategies to accomplish all your business objectives. Contact us now on info@afterr.in
Disclaimer: Afterr Media is not affiliated, associated, authorized, endorsed by, or officially connected with AdRoll, or any of its subsidiaries or its affiliates. All the images & trademark terms are for educational purposes.